Green Tomato Chutney
The best way I know to use up unripe tomatoes. I will be looking for more recipes this week, I'll let you know if I find a good one.
2lb green tomatoes
1lb of cooking apples
1lb of onions
500ml vinegar, (old recipes use malt vinegar, more recent recipes tend to opt for cider or white wine vinegar)
120z of sugar (I prefer soft brown sugar but see what you have the in cupboard)
A good handfull of dried fruit (I like dates chopped small)
1 tsp cumin seeds
1tsp coriander seeds
1 tsp chilli flakes (optional)
2 tsp ground ginger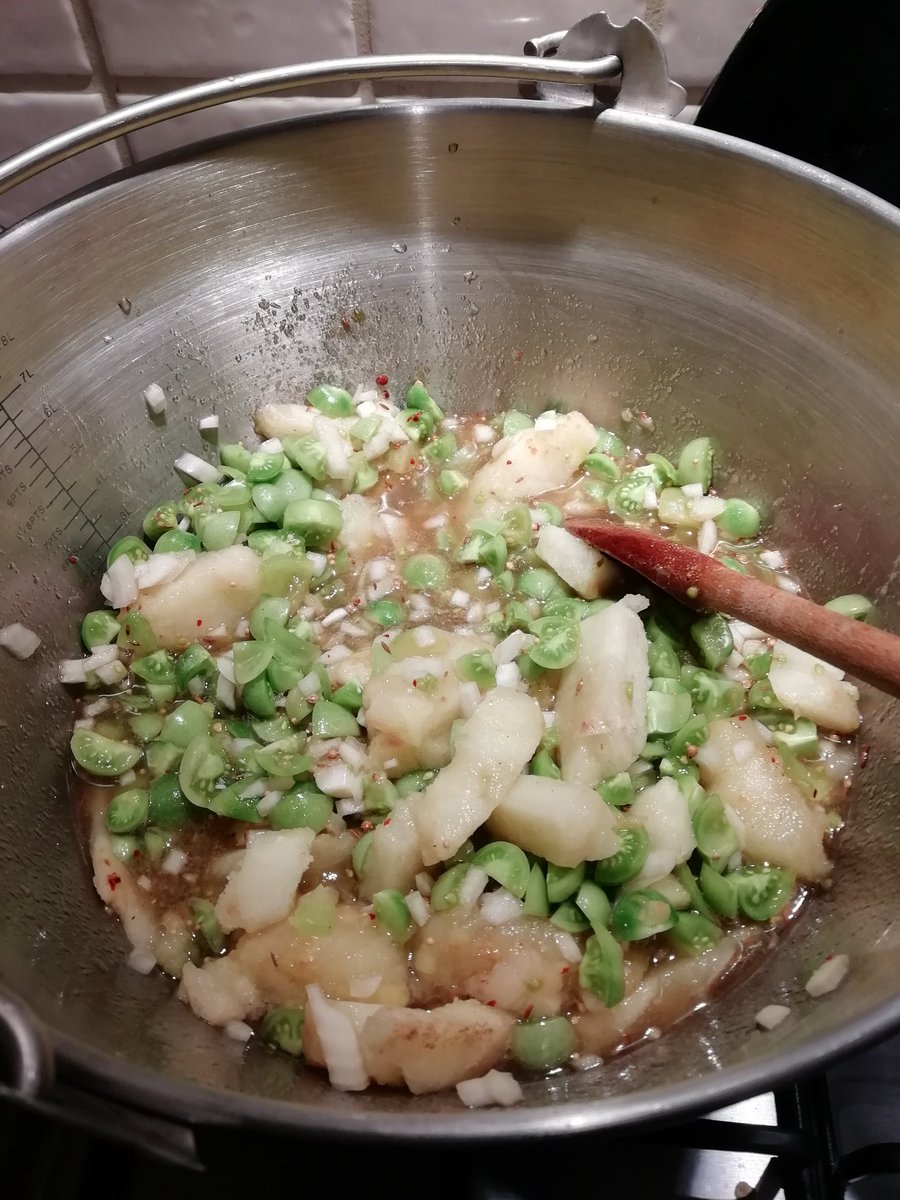 At the start, apple is in large chunks because it has come out of the freezer pre-chopped.
Chutney making is easy. The secret is to spend time at the start chopping all your ingredients as small as you have the patience for. No matter how small it looks on your chopping board I can guarantee that it will look much bigger in your sandwich.
Finely chop all of the ingredients that need chopping.
Put everything into a large saucepan.
Heat gently and stir until all of the sugar is dissolved.
Then bring up the temperature and give it a good boil.
You know when it is done when you can draw a wooden spoon across the bottom of the pan and see the bottom briefly.
Warning - chutney burns very easily at this stage and there is nothing so persistent and stinky as that of burnt chutney. You will be smelling it for days. So even though it seems like your chutney is taking ages, and it may well take ages, do no be tempted to wander off and leave it on the heat for even a few minutes. It doesn't need constant stiring but it should be watched.
Once cooked you need to pot it up into hot, sterilised jam jars.
Try and leave it for a few weeks to even 3 months to let the flavours develop before you eat it.
A note on ingredients
Please don't worry if you don't have the exact ingredients. There is a lot of scope for changing. The earliest chutney recipe I have is from a historic cook book and that one uses honey and white wine instead of vinegar and sugar and the main veg is turnips! It tastes a lot better than it sounds.
Mix and match your ingredients, swap apples for pears, try other veg, use your favourite spices.